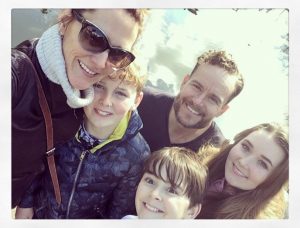 Hi my name is Bex from Bexy Boo 
I have been making personalised cards and gifts for friends, family and local shops for over 17 years.  I have also successfully designed a best selling hand finished card range in Birthdays which out sold Disney in the first month of its launch. That certainly made me smile.
I have always loved everything creative from Fashion to Art, Textiles to Design.  It started at school specialising in Art and Textiles, through to attaining a 'Distinction' at Manchester University in Art Foundation. I loved the crazy creating and allowing your imagination to go wild. I then ventured to London where I achieved a BA Honours Degree in Fashion and gained valuable experience working for two famous catalogue companies buying for the young fashion departments. 
I spent the next 5 years with my wonderful husband, bringing up three gorgeous children and investing valuable time in building a loving home. I then felt it was the right moment to re launch myself as Bexy Boo.  With my previous experience, Bexy Boo has grown from strength to strength from introducing hand-finished Greeting Card ranges as well as a huge growing demand for my Scrabble pictures.
I am very lucky to work at home and across the stream is my Bexy Boo studio. My marvellous Mum who has been with me from the start, helps me lovingly hand finish all our greeting cards, and brings a little sparkle to our studio. She is my rock and saviour.
I hope you enjoy looking through  and love what I have created and join me on my crazy journey in this wonderful world of greeting cards.
Bex x