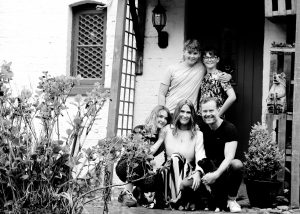 Hi my name is Bexy from Bexy Boo 
As you can probably guess from my name, Bexy Boo belongs to me, although sometimes I still can't believe I have my own business plus 3 kids, a fabulous husband and a wonderful family too. (not in order of importance of course).
Bexy Boo began when the kids started going to parties and I would make personalised scrabble pictures and matching cards as presents. Friends ordered, confidence grew so I took the giant leap and started selling to my local shops, basket in hand saying ' please can you buy my cards?'.
I launched Bexy Boo at PG Live in 2014 and haven't looked back. I have won a couple of awards, nominated for a few, and sell to the most beautiful shops in the UK along with Europe and the whole wide world.
I am very lucky to work at home as across the stream is the Bexy Boo studio. The commute to work can be pretty treacherous sometimes. My marvellous Mum has been with me from the start, helps me with absolutely everything, and brings a little sparkle to our studio. She is my rock and saviour. Along with Sophie, Aimee and Nick we make a formidable 'Boo' team. 
I hope you love what I have created and join me on this crazy journey in this wonderful world of greeting cards.
Bex x
Stockists
Paperchase / Scribbler / Fenwicks / House of Cards