Bexy Boo takes her Baby Boos to Downing Street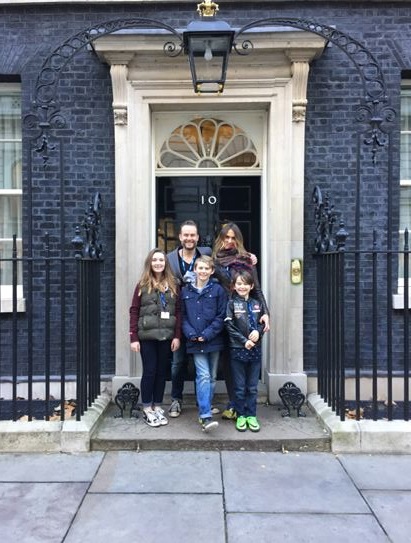 Hello Downing Street!
It has been a crazy couple of weeks with what started with an email. With the address of dot parliament, I was in shock as it was a personal invite from the Chancellor George Osborne to join the Small Business Saturday UK event at No 10 Downing Street. I was asked to represent the Tatton Constituency and the UK's 5.4 million businesses striving to succeed and to encourage people to shop local and support the small independents.
On the same day, it was also my son Joby's 11th birthday so I had to get the go ahead with him 1st before I could officially say 'Yes'.
So the day before the big event, the Hassett family set off on their huge adventure down to the big smoke of London Town. As we were driving through the City and across Tower Bridge to our hotel, I felt so lucky that I could share my achievements with my family. They have always encouraged me to continue with Bexy boo and to believe in myself and without their love and support, I know I wouldn't have had the courage to be where I am now.
So after a good nights sleep, the 4th December had arrived and we spent the morning  blowing up balloons, eating cake and opening presents. We then packed up the car and made our way slowly, through the London traffic to The HM Treasury. (The event had changed locations due to unforeseen circumstances). It was all very official, security was tight and the iron gates were huge, but we finally made our way in. As we drove through the arches of the circular brick building of the Treasury into the drum, we were awestruck.  Bexy Boo felt so small against this majestic back drop.
The kids helped me to un pack and set up before venturing to Downing street. We met a wonderful lady there, who was Mr Osbourne's personal assistant who very kindly agreed to personally show us around No10 and No11. My family and I were the ones that felt like royalty when we were escorted to the front of the queue, through security and into Downing Street. The Prime Ministers black Jaguar was parked outside so we knew Mr Cameron was at home. It all felt very surreal. We were shown around all the rooms downstairs from the reception room filled with computers to an impressive meeting room where all the important decisions are made. Up the stairs of No 11was a myriad of caricatures of all previous Chancellors which led into a huge reception room filled with wonderful pieces of art in various styles. From here we could see the PM's garden with a climbing frame and a basket ball net for his children that Barack Obama had given them for Christmas.
We then ventured back to the Treasury where the event finally began. A brass band played inviting all the 100 small businesses that had been selected into the Drum. People who worked in the Treasury also joined us and the atmosphere was electric. Mr Osborne joined us with an entourage of assistants and TV crew and came to introduce himself to me 1st. I was so nervous and jittery, but he came across as a lovely well meaning man and dare I say, normal. We talked about my award win at the Henries and also I had made him a selection of hand made Christmas Cards specifically for his family and children which he seemed very happy about and said that 'it had saved him a job'. I was thrilled!!
Mr Osborne then did a magnificent speech about small business Saturday, the launch and how important it is to shop local and support our Entreneurs and small businesses.
My hope is that I have done the greeting card industry proud by showing Mr Osborne how important we all are to our country with our creativity and flair and in still conveying the personal greeting. Nothing beats a hand written card with a beautiful design, enclosed in an envelope, sitting on your door mat waiting to be opened. That flurry of excitement of wondering who it's from and what has been said I hope will stay with us forever enabling our industry to continue to florish and grow.
It was then over! Time flew and I certainly had fun.
Lots of love 
Bex x
To read about the fabulous article written by Greeting today, please click here.
We were also featured in the Altrincham Messenger. 
https://www.messengernewspapers.co.uk/news/business/14199130.Prontaprint_Altrincham___s_latest_work_makes_it_Treasury_event/