What's on for sizzling September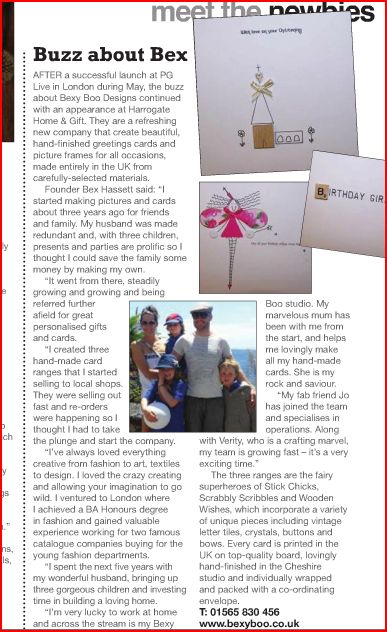 The time has arrived for routines to commence and order to be introduced back into our lives once more after a summer of beautiful kids, showery rain and desperately trying to 'get things done'.
With Autumn on our doorstep, I have made my plum jam and chutneys so only the damson vodka and the sloe gin to make now. Maybe I should say 'Sozzled September'!
3 new card ranges are ready to be launched this month based on the 'Scrabbley Scribbles' range: Valentines, Mothers Day and Fathers Day. So my Agents will be storming the country with their bags brimming full of Bexy Boo products raring to show their retailers what I have to offer. I will eagerly be awaiting that wonderful buzz of an order coming through and a new shop to join the Bexy Boo team.
Buzz about Bex- I am featured in the editorial for the GREETINGS TODAY MAGAZINE under the 'NEWBIES' section. This is the biggest editorial for me so far, so I was really pleased to recieve the coverage.
There is so much going on this month to keep the momentum going:
We are taking part in the 'Thinking of you' campaign launched by the www.greetingcardassociation.org.uk  to highlight the emotional power of sending and recieving cards. The aim is to create a wave of love, caring and happiness across the nation by recieving a card.. #ThinkingOfYou #KeepBritianHappy This will be a Facebook and Twitter campaign ready to go next week, so watch this space.
I am participating in a 'Giveaway' with another fab company called Dotty Rose Designs. This will be a national Facebook campaign where you have the chance to win gifts by liking and sharing our pages.
I am hosting an open studio Christmas Coffee morning at the Bexy Boo studio in November to stock up on special Christmas Gifts and Cards. Date will be Friday November 14th TBC
Thank you to all you lovelies for continuing to support me with your lushness, your likes, your comments and your friendships.
Enjoy the last of the sunshine
Bex x